Change the world? As many say, shall we move back to normality—the very normality that defined a world on the brink of disaster? What? No disaster in your perception-horizon? 
Same with privilege, we don't recognize or have perception of disaster before it happens. All seems to be well, for the privileged—that is us (many of). Irony wants that we have often all indications that disaster is imminent. Still we do nothing. Video meliora proboque, deteriora sequor–We approve of the best policies, but follow the worst. True, "we" are a lot, but who are we?
The privileged—I always said I am one. Even with the difficulties that came in my life (such as the loss of my father), I still remain a true privileged white man–and middle-class. I enjoy being so, of course—I mean privileged. The problem is I had no idea of this being so. Still, one marginalized group–women– has fought and advanced a lot, in a short span of time, to be recognized and take what is theirs. Think of the woman's gaze, a gaze that was enclosed, subordinated, repressed.
The sole fact of recognizing that other gazes exist, and mine is not that important, is revolutionary. We need to expose ourselves to such gazes.
Then there is the construction of that gaze. What if the following quote was pronounced in the context of education? It'd seem perfect, wouldn't it.
We're trying to create a very active viewer, and to put you in a different position. We have a project for you, you know?

Céline Sciamma, film director
Think of this thought–I'll be back at this quote and its author and work. We have a project for you, dear student. We have a project for ourselves, dear faculty. We want you to build the project together with us, and not be a mere consumer of content. It can be the beginning of a syllabus. Well, fantastic. But what does it mean to be an active viewer of a film? And what does it mean to be an active student of a subject? To build something, perhaps–whatever: content, artifacts, works for and about the subject itself. Because by building, one works out the forces of learning and earns understanding, connecting the dots, clarifying the view, matching patterns, growing doubts. When I speak or write I make my own meaning, I understand. Some doubts dissipate and others grow. And mind you, I may understand something quite different from you, my peer. Now, in science the diverse understandings need to converge toward a common corpus of knowledge, but that end product does not preclude the multi-faceted interpretation-laden territory of individual or group speculation.
I am fascinated by this metaphor that equates a movie-viewer to a learner and defies the conventional view that the instructor instructs and imparts knowledge while the student consumes. This post is proof of the vitality and activity of one film, its life beyond the viewing; the construction of knowledge (here, now, while I write and research the subject).
Sciamma–like artists and instructors–invites her crew (actors, engineers, technicians) to participate in the making of the movie. But she also invites us, the viewers, to participate into that construction, see? I love this metaphor. Also since, as I was writing earlier in this post, she and her crew issue a strong call of arms to save the world!
So, it was very refreshing to see a film director like Céline Sciamma (with her crew) who actually believe that changing–or better, saving–the world is essential. And they work for that. And this is why we need to watch movies like Portrait of a Lady on Fire. Actually, the original title is about more of a girl than a lady, indicating perhaps that changing the world seems to begin with youth.
It is "A manifesto about the female gaze", she claims.
[…] the scene on the beach where Marianne finds Héloïse and cries and says, "Your mother's coming back," and they kiss. Suddenly, it's this big, emotional thing. And the fourth take was like, wow. I called "cut" and I turned to my DP and I told her, "We are saving the world." And she said, "We are saving the world." And that was the first time we said it. Sometimes we said it as a joke, like, "Are we saving the world?" It was mostly a joke. But, of course, images and culture can change culture.

Vulture, The Women Behind Portrait of a Lady on Fire Believe Their Movie Can Save the World (March 2020)
It's a movie of women.
There's a woman painter and another (the girl-lady) whose portrait must be painted. The two meet in a remote mansion close to the sea. There are women, many women, only women. Men practically don't appear and aren't almost named. It's a feast of women, for women. But it's also a feast for all.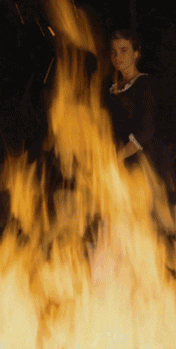 Listen to her (interview on Vulture, quoted above): Céline wants not only to talk to us, but most importantly to make us respond and react and participate in the film's constructions. Likewise, the painter asks collaboration from the subject to be portrayed, and the resulting work is not only the painter's. Likewise, I should add, Sciamma works with her crew and actresses to build the movie. This is not a script upon which a film is shot.
We're trying to create a very active viewer, and to put you in a different position. We have a project for you, you know? It's not that you anticipate that there's going to be a strong response, but I am thinking about the response when crafting the film.

We have this very radical language in the film, and my dream is always that the viewer loves the language and starts to speak the language of the film. Part of the pleasure, part of the excitement, is being part of the brain of the film. Getting it, and having this joy, speaking its language. It becomes this new tongue.

I think art, can change the world. Otherwise, why [do it]? We believe that we're creating the future.
It is a film on "looking", and there stands its exceptional value: in implicating the viewer in this looking business where we're used to believe there is but one look–the author's– but we are at the very least forced to think, wait!, we're looking through the mirror, here, we're making the look, we build it while looking. Amazing.
And again, listen to her on how a sex scene is conceived and collaboratively thought out with her leads Adèle Haenel and Noémie Merlant to make of it all but a simulation.
We were all collaborating on this idea that it was sexy and fun, and also there was room for you. That thing about the male gaze logic defining women is that you're basically held hostage. You don't have a choice. You can close your eyes, but otherwise, the image is giving you an order. How we feel, what arouses us—sometimes we are held hostage by this, because, you know, it works! It's education, it's training. The fact that you could be lost in this image, and wandering, and having fun with it… I mean, that's a journey of sex. That's the idea of sex.

Anna Menta @annalikestweets from Decider.com (March 2020).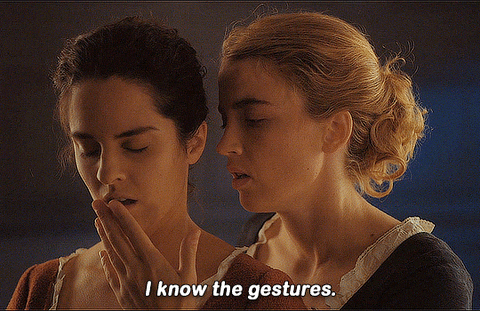 "Take time to look at me," says Marianne, modelling for her class of female students at the start of the film. It equally works as a provocation to us. Take time to look at these characters properly, Sciamma is saying. By the end of the film her order takes on extra resonance as the short-lived love affair inevitably ends, and memories and paintings are all that are left. After such a restrained study of love and the power of looking comes the devastating ambush of the film's ending – but, entirely appropriately, it's one that simultaneously revels in the rhapsody of art.

Portrait of a Lady on Fire first look: Céline Sciamma conjures an oasis of female freedom. Isabel Stevens, BFI.
By the story's end, memories and paintings are all that are left. This resounds deeply.
The film is full of amazing (literally) stuff. Like the fire scene, where the fire is metaphorical and real at the same time. Like the already famous armpit scene, provocatively confusing. Like another scene with the portrayed girl–proud and liberated–caressing her own armpit.
Like the story of Eurydice and Orpheus, which is a meme throughout the film and which is read aloud under candlelight: Remember Orpheus looking back at Eurydice while they were climbing up from Hell? He was told not to do so, lest they both would return back forever. But he does. Now, asks Céline and the movie: What if that look was commanded by Eurydice and Orpheus could not but obey it?
Could Eurydice be the author of her own fate, the commander of his gaze?

Mark Kermode, The Guardian. Portrait of a Lady on Fire review – mesmerised by the female gaze (March 2020)