I Want You To Want Me / by Jonathan Harris and Sep Kamvar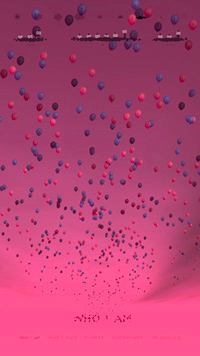 Apophenia me lleva a visitar este concepto artístico: un sistema que visualiza los deseos, intereses y gustos de las personas que utilizan los servicios de dating online, por medio de pequeños globos.
I Want You To Want Me explores the search for love
and self in the world of online dating.
La exposición se está por acabar en el MoMA:: Elastic Mind (Nueva York)… pero, en el sitio que los artistas han montado se puede apreciar el concepto y su realización. Otra aportación al campo fecundo de las artes computacionales y el mashup.
Los autores comunican que la pieza tiene cinco movimientos formales: Who I Am, What I Want, Snippets, Matchmaker, y Breakdowns.