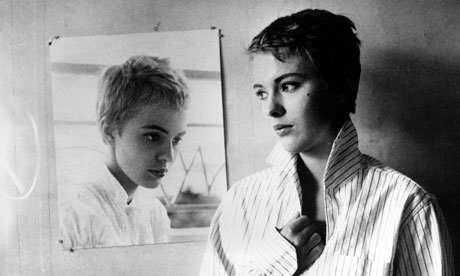 Philip French
, film critic of The Guardian, reminds that it is now 50 year since Godard's masterpiece of
A bout de souffle
(Breathless) opened (
Breathless continues to shock and surprise 50 years on
).
What French writes is fascinating history of cinema. Read his story of Chabrol, Truffaut and Godard working together in the film:
Claude Chabrol, who served as supervising producer on Breathless, famously warned that great subjects rarely make great films. And Godard, the master of the gnomic epigram and perceptive paradox, once said: "All you need for a movie is a gun and a girl." This was the basis of the brief scenario that Truffaut, a fellow admirer of film noir and série noire pulp fiction, provided for Breathless. Its antihero, the swaggering, misogynistic petty criminal Michel (Belmondo), steals a car in the south of France and kills a policeman on the road to Paris, where he takes up with an old girlfriend, the well-heeled American, Patricia (Seberg). They talk of life and literature (in particular Faulkner's The Wild Palms) in a seedy hotel, make love and visit the movies while he tries to get money owed him by criminal associates. The police close in, Patricia betrays him. Hardboiled B-feature stuff. But the style is everything, a calculated destruction and remaking of traditional film grammar, and Godard formulated his much-quoted idea that "a film should have a beginning, a middle and an end, but not necessarily in that order".
Breathless's Jean Paul Belmondo and Jean Seberg are unforgettable masters in this film, and they greatly portray two characters of rebellion and anti-conformism. Dialogue, Citroens and Deux Cheveux populate Paris' streets, while Belmondo's smile always shows a cigarette between his teeth, just like Humphrey Bogart's poster.
I saw Breathless first in its American remake (by Jim McBride, 1983) with Richard Gere and Valérie Kaprisky and though Gere is no Belmondo (no offense!) it inspired me and took my breath away, but it's a completely different movie. Only later did I view Godard's.
Now Godard's provocations have given us another film: Film Socialisme, a movie resumed within its two-minute trailer.
Related articles by Zemanta