While in the middle of this amorphous political environment of the past months (Trumpism, state of emergency in France and general elections, students' strike and 1st May manifestation here in the provinces fo Puerto Rico), I kept looking for media signage through the internets, the great internets.
To begin with, my search was driven toward Paris '68 protests and civil resistance and protest of those hot times. Interesting choice, isn't it? But today, after the animus has calmed down, we recognize the value of the fights done by our younger selves. After all  Nobel Prize to Bob Dylan was awarded to one who was present in person or spirit in much of the political rallies of the '60s and '70s. Same with Dario Fo's Prize.
Friends and myself at times may be afraid (the media's scrupulous workings) of protests and strikes. This image projects calm and awareness.
Even in times of turmoil. [Jean-Pierre Rey: Girl Waving Flag During General Strike, Paris, May 1968]
The media have always been working in the background, with their only goal (not truth, nor information): selling.
a reminder that the coverage isnt about healthcare but the desire to keep the campaign going pic.twitter.com/DdFCQSU8El

— nathanjurgenson (@nathanjurgenson) May 4, 2017
This poster from the same time is frankly very current, everywhere. Do we realize that France's general elections of today are happening while the country in in a state of emergency? Usually states of emergency are the first stage for anti-democratic and autocratic movements. And the people of France are compelled to choice between one of two candidates whom they generally do not agree with.
Sure, Order reigns. Here and there. Always.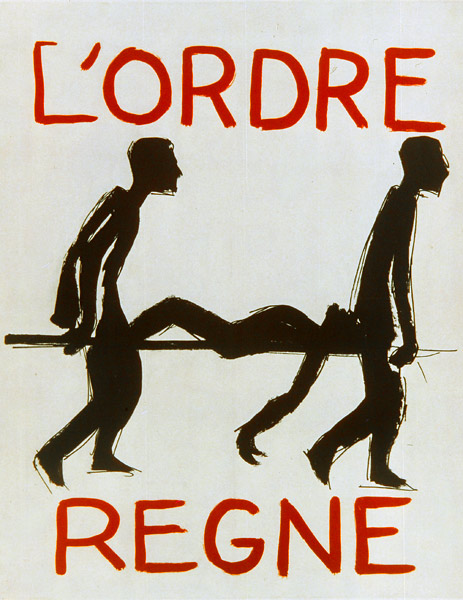 There is a hilarious video (Conferencia de prensa del Departamento Batatero de Justicia) done with a fantastic sense of humor, and captures well the times they are a-changing: Are they, though? But the Frente Memero de Liberación Nacional unfortunately has buried its own site (and the video) in the black hole of Facebook. So there's no way for me to embed it here. Not even Google finds it. So, you have to manually go the FB page linked before and watch it there (sic). There's a lesson in this too.